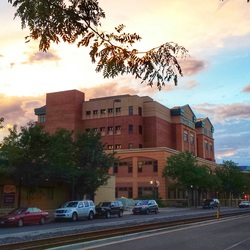 Brett M. Hill, Attorney
A Fort Collins, Colorado Law Practice with Emphasis in Estate Planning, Tax, Medicaid, Probate, Probate litigation, and Marital Agreements.
Other Areas of Practice:
- Real Estate and Land Issues (Purchase Contracts, Easements, and other issues)
- Business Law (LLC, Corporations, Shareholder Agreements)
- Landlord/Tenant Issues
- Home Owners Association (HOA) Law
- Elder Law, Conservatorship and Guardianship
General Practice
Many clients who use The Hill Law Firm LLC for Estate Planning or in order to start their new business will continue to use them for other legal issues that may come up. Brett can assist with Complicated Leases, Uniform Commercial Code issues, and other business areas. Brett is also there for the small problems like dog barking and traffic tickets. Getting to be part of The Hill Law Firm family means that you will have access to legal advice and help in a variety of areas.
Estate Planning, Wills and Trusts, Probate, and Probate litigation
Brett M. Hill is an experienced Estate Planning Attorney. As he explains to his clients, a Will or a Trust are not effective parts of an Estate Plan if the client does not understand how they interact.
A Will and Trust always have to coordinate
with the Title on assets and the beneficiary designations. Brett has conducted seminars at the Senior Center and various churches as a public service so that people can
understand the Benefits of an Effective Estate Plan
and also will not be taken by
the scam of "free seminars"
that try to
sell trust planning or expensive and unnecessary estate plans
. Brett has experience with
Tax Planning
as well as planning for
possible Medicaid consequences
. Brett is also experienced in writing an effective
Power of Attorney
(Financial and Medical), Living Will (Advance Directive for Medical/Surgical Treatment), Marital Agreement ("Pre-nup" or "Post-nup" Agreement) or Trust.
More details
Litigation
As much as possible a quality attorney will try to
avoid the cost and stress of Litigation
by mediation or by prevention of future Litigation through
Well Written Contracts, Disclosures, Waivers, Wills and Trusts
. Sometimes Litigation is unavoidable. Brett is experienced in
Litigating the Validity of Wills and discovering the True Intent of a Decedent
(the deceased person). Brett will take the time to discuss a case before proceeding to litigate. If Brett doesn't think there is a chance of winning he will not proceed just so the firm can earn money. Quality of service is much more important than how much money he earns as an attorney. Long term clients have come to trust Brett's opinion about whether or not they should proceed in Litigation.
Real Estate
Brett is both experienced and detail oriented in looking over
Contracts in Buying or Selling Real Estate
. The best way to avoid Litigation is to prevent it by
foreseeing
all possible consequences of a
Poorly Written or Biased Contract
and thus preventing future problems. Many of Brett's clients have him look over
Contracts before they Buy or Sell any kind of Real Estate
, whether it be their primary residence or property for their business. Brett often looks over
Contracts and Agreements for his clients who own Businesses and are renting Business space
. Many times he is able to point out problems with a Contract that may be unforeseeable to a Buyer or renter. Brett can assist you with
understanding Property Easements
and
your rights when an Easement Purchase or Negotiation
is at issue.
Business Law (LLC, Corporations, Shareholder Agreements)
Brett has often met with clients to help them decide how to best
Incorporate their company (PC, LLC, INC...).
It is important to meet with an attorney so that
your company will run efficiently, legally and without burdensome tax consequences
. The Hill Law Firm LLC will also help set up
corporate charters and bylaws or your operating agreement
for your
LLC
. Clients also come to Brett with legal questions regarding
hiring and firing of employees and employee benefits
. Recently, he has written and negotiated many
Shareholder Agreements
which is an important part of
controlling the future ownership
of smaller corporations.
Landlord/Tenant
Brett often answers questions about the
rights of both the Landlord and the Tenant
and has represented Mobile Park Owners with the special treatment that the law gives them.
Homeowners' Associations (HOAs)
Brett has experience with
HOAs
, Litigation with HOAs, and Board meetings. Brett has often attended HOA meetings in order for
members to know their legal rights
and also to make sure that
bylaws and procedure
within the HOA is followed. Often HOA members have questions on how to or whether or not they can put
liens on the property of members
who are delinquent on
their dues
. Many times HOA's have questions on how to legally enforce rules or how to tow abandoned vehicles. Susan Dinkel, one of the legal assistants at The Hill Firm LLC, does all of the accounting and bookkeeping for a local HOA, and Brett Hill represents the HOA for collection issues and other legal issues in order to keep the HOA running smoothly.
---